IN MEMORY OF
JEWISH KAUNAS
By Boris Bakunas, PhD
In the Year of Shame 1940, while the bulk of the German military machine was consolidating its grip on Poland, 110 French and British divisions sat idly on the Western Front, facing a token German force a fraction its size.
In the Year of Shame 1940, the People's Commissariat for Internal Affairs, the dreaded NKVD, massacred 22,000 captured members of the Polish Officer Corps, turning the Katyn Forest into a vast mass grave.
In that same Year of Shame 1940, Chiune Sugihara, a Japanese diplomat and spy stationed in Kaunas, Lithuania – along with his wife Yukiko – made a joint decision in defiance of direct orders from their government, and together they lit a beacon of hope for thousands of Polish and Lithuanian Jews. From 19 July to 28 August, 1940, the two-storey, white stucco building on 30 Vaizgantas Street that housed the Japanese Consulate, became the moral capital of the world.
Chiune and Yukiko Sugihara with their two children had arrived in Kaunas from Helsinki in 1939 not long after Nazi and Soviet troops sliced Poland into two zones of terror. Chiune's ostensible mission was to serve as the Japanese Vice-Consul in Kaunas. His real assignment was to gather intelligence on the strength of the Soviet military in the West.
But a chance encounter at a delicatessen with an eleven-year-old Lithuanian-Jewish boy named Solly Ganor intervened, transforming the suave foreign-service officer renowned in diplomatic circles for throwing lavish parties into a hero of the Holocaust.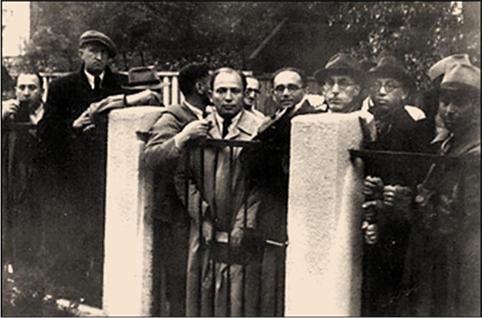 Jewish refugees at the gate of the Japanese Consulate in Kaunas,
July 1940. Thousands of Jews lined up here, hoping to receive transit visas allowing them to escape to the Far East and to America or Palestine.