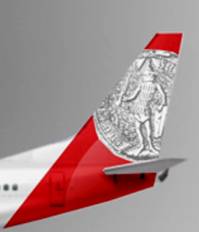 "Zuokas Airline" – AIR LITUANICA – to take off in June:
Is this sensible use of taxpayers' money in a time of crisis?
Follow the debate in our
VilNews Forum
Ulf Hallan
 Richard Branson: "If you want to become a millionaire, start with one billion dollars and open an airline company."
Aage Myhre
 My personal comment is that this smells like failure. We have over many years seen state owned airlines in the Baltic and Nordic countries, all bankrupt or on the brink of bankruptcy … The funny thing is that the people of Vilnius seem to accept this without protests… I can only imagine what the reactions would have been in a western capital …
I fully understand that Lithuania needs an airline, and I think the name is very good! But I think, with due respect, that a mayor should be active with totally different things and leave it to experienced business people from the aviation industry to take care of establishing a new airline …

Matilda Allen I am sorry, they're idiots! Well, maybe we have to look deeper? Paksas , Zuokas….? Money laundry

Aage Myhre to Matilda Allen: We see something similar with regards to how the Lithuanian government has handled the crisis over the last 5 years … People in Southern Europe, where wages and living conditions are much better than here, take to the streets for massive protests against their governments austerity measures, while here in Lithuania people only bow their heads or leave …

Irene Simanavicius to Aage Myhre: You are 100% correct about the Mayor reaching out to the experts. Canadians almost paid billions for an aircraft carrier for our Military Defense, and because one aviation mechanic that lived in Houston who used to be part of our Air force and flew to the Arctic on a regular basis before he retired recognized the plane as NOT HAVING a twin engine. He mentioned it to someone and it got on the news and our politicians were RED FACED for being so stupid and falling for the marketing hype without thinking or asking the experts. It was just a shiny new brand new toy to them. The mechanic said when he flew in the severe cold one engine would completely seize up and if he didn't have the reserve, well…he wouldn't be here nor anyone he transported.(so many examples are out there from cocky politicians trying to make their mark):)

Sergey Kanovich Well, owning 83% of the stake while also owning 1 billion LT debt is something worth of Nobel in finance and economy. I bet that this will be a flying tram… On the other hand it is an excellent PR stunt at someone else expense (guess who's:)) again. And if it fails like other projects failed – who cares…
It also says that the MD of Air Lituanica without the wings is being paid 30,000 LT monthly salary. Municipality last year has allocated 0,5mio, then this year almost 3mio LT. It is not intended to be low cost airline. it is intended to suck monies out of already existing 1 billion LT whole… Unbelievable
Eugene Rangayah  I have come across the a slide highlighting the proposal for the airline and noticed a Brian Joffe in the midst. Mr Joffe has been CEO of the Bidvest group in South Africa, which has a huge investment portfolio spanning the continent. With the support of people like him, with a good entrepreneurial spirit and business acumen, the airline could turn out to be a success. However, I do think that it is very ambitious growth that had been forecast over the next 5 years. It does not seem apparent that any consideration had been taken on the competition from low cost carriers which have positioned themselves at VNO!

Arvi Vaalivonis This is more about the LT pride than business…