The green Soviet bridge in Vilnius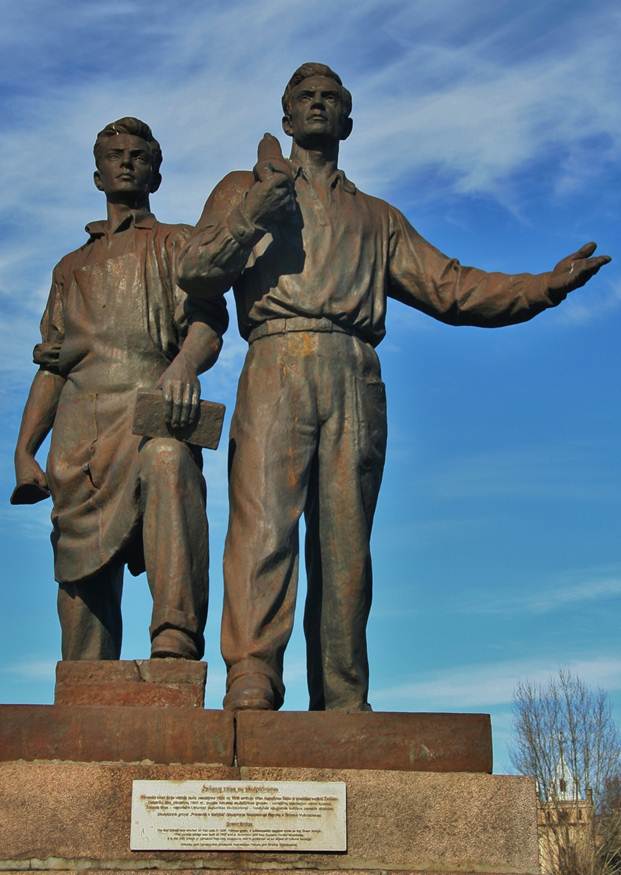 The Green Bridge sculpture "Industry and Construction (Pramonė ir statyba)"
by Bronius Vyšniauskas and Napoleonas Petrulis.
Photos: Aage Myhre. 
The Green Bridge (Lithuanian: Žaliasis tiltas) is a bridge over the Neris River in Vilnius, Lithuania. It is the oldest bridge in the city and connects city centre with the so-called right river bank and the Kalvariju g that leads to several of the city's Soviet suburbs north of the city centre.
The first bridge is known from 1536. It stood closer to the present-day Mindaugas Bridge. It was a wooden covered bridge with brick and stone piers. It had a second floor with apartments for toll collectors. Because its builder Ulryk Hozjusz wanted to recoup the cost by collecting tolls, Grand Duke Sigismund I granted him a privilege prohibiting others to build any other bridges between Kernavė and Bistrica or to offer other crossing services between Verkiai and Paneriai. The bridge was burned by retreating Lithuanian Army after the Battle of Vilnius (1655).
A new project was prepared in 1673, which envisioned a span of 73 metres (240 ft) between piers—the longest known span at the time. However, an early spring and ice jam destroyed the piers. Therefore the old piers from the first were reused and the second bridge was complete in 1679. In 1739 another wooden bridge was erected and painted green. Since then it is known as the Green Bridge. In 1789 a new project of a brick bridge was prepared by Laurynas Gucevičius, but the builders selected another proposal. The construction was supervised by Marcin Knackfus. The project was not successful as the bridge burned in 1791. It was rebuilt according to a project by Michael Schulz in 1805, but burned again on orders from Michael Andreas Barclay de Tolly during the French invasion of Russia of 1812.
The bridge was rebuilt in 1827–1829. A steel bridge was designed by Nikolai Belelyubsky and completed in 1894. It survived World War I, but was blown up by the Wehrmacht in 1944. The present-day bridge was completed in 1952 and named after Soviet General Ivan Chernyakhovsky. After the declaration of independence in 1990, the bridge regained its historical name.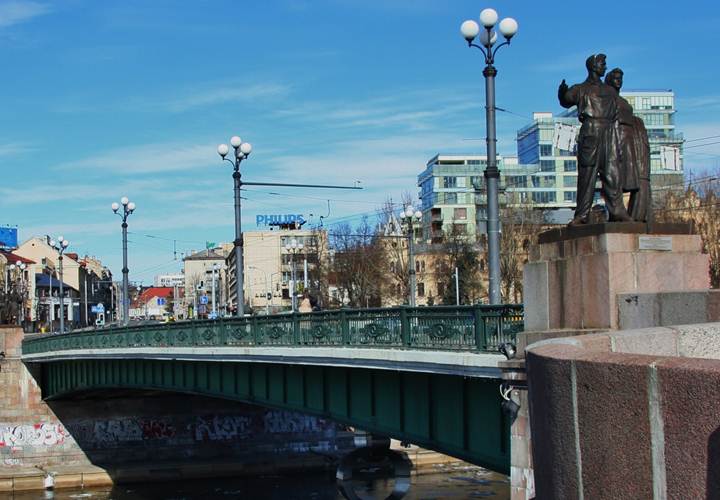 The bridge features four sets of sculptures—prominent examples of Soviet realism. They all feature two people, representing social classes idealized by the Soviet authorities (soldiers, workers, farmers, students). Three sculptures are 3.2 metres (10 ft) in height (including the pedestal); the soldiers reach 4 metres (13 ft) due to the raised flag.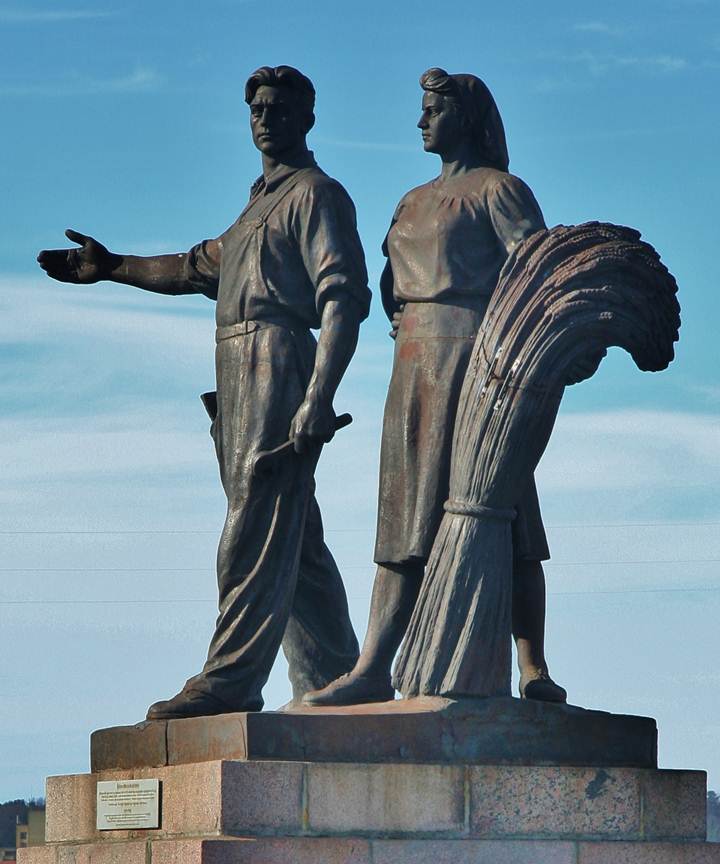 The sculpture "Agriculture (Žemės ūkis)" by Bernardas Bučas and Petras Vaivada.