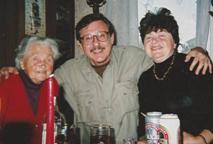 Boris went to Siauliai to see his
grandmother's sister before she died.
Can good come
from selfishness?
By Boris Vytautas Bakunas
I want to tell you a true story. During a trip to Lithuania a few years ago, I drove to the city of Siauliai to see my grandmother's sister before she died. At 97 she was the oldest surviving member of my family.
My reason for visiting her was not only selfish, but it was based on an illusion…

Read more...
__________________________


Rimgaudas Vidziunas
 great story...lesson learned 'do for others as you would have them do to you'. Now I learned that somewhere. Oh Yes, the 'Ten Commandments'
__________________________
Irena Kenneley
Synchronicity/meaningful coincidence--how awesome is the fact that you were able to take a step back, connect the dots so that they include your inner and outer world, surroundings, emotional state, and motivations to come full circle and realize the deep implications of your visit and its effects on yourself and those around you! If it's one thing I've learned over the years is that taking care of oneself is not selfish! I admire your writing style! Great story.... 
__________________________
Eugene Rangayah
 Heartfelt Boris! I don't even have the words! Family and connections are so important to maintain!
__________________________
Sandra Abramovich
 A wonderful story!
__________________________
Vijole Arbas
 death is something like taking a long trip