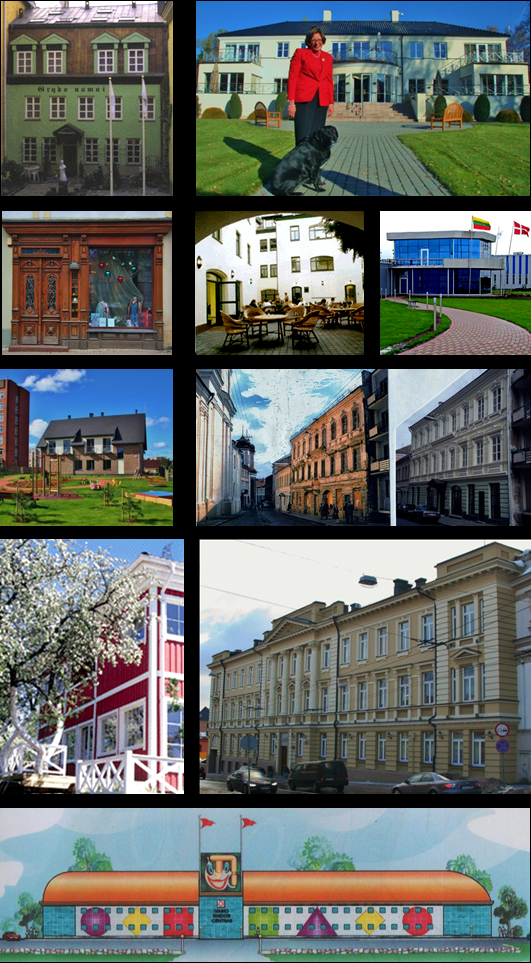 Some of architect Aage Myhre's projects in Lithuania
over the last 20 years.
Architect
Aage Myhre, VilNews editor-in-chief,
interviewed
by Ramunas Kontrimas, news2biz
www.news2biz.com
ramunas@news2biz.com
Aage
Myhre, 60, is the Norwegian architect, journalist, publisher whose community
building skills have made him a small expat phenomenon in Vilnius. He is about
to return to his home country after twenty two years in Vilnius, taking along
his Lithuanian spouse and two daughters, but leaving his other object of
admiration, Vilnius' Old Town, behind.
news2biz
met Aage to ask him to reflect on his Lithuanian stay that lasted much long
than he expected.
How
did your Lithuanian story begin?
I
used to have my architect's office in Oslo that I shared with 15 other local
entrepreneurs, lawyers, politicians and the like. One day in 1990, a ponytailed
young man comes in, says he's an advisor to the then president Vytautas
Landsbergis of the country that we'd hardly heard about, Lithuania. He'd been
told – to our surprise – that we are a group of leading lobbyists in Norway,
and that Landsbergis' wants Norway to be the country of his first official
visit to the West, so he needs our help in arranging – but he has no money.
Three
of us in Oslo agreed to help, and with the support of Statoil, other big
companies and the Oslo Municipality we managed to arrange a successful visit
for Landsbergis' a couple of months later. During his visit, Landsbergis
invited us to Lithuania and we went there in November 1990. Our task was to
negotiate and arrange the installation of the Norwegian satellite telephone
system at the Lithuanian Parliament. At the same time I was helping Statoil to
get acquainted with the Lithuanian and the Baltic market.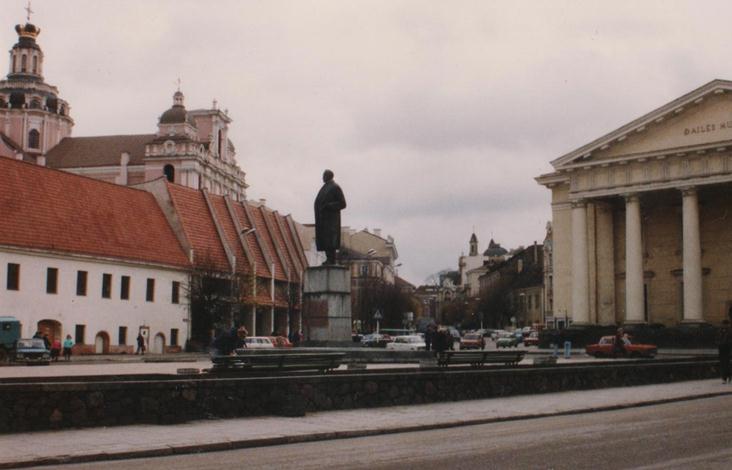 During his first visit to Lithuania, in November 1990, Aage
took this picture at Rotušes aikštė (Town Hall Square) in Vilnius. This was probably the very last
picture ever made of the statue of Vincas Mickevičius-Kapsukas.
Next morning the statue had been knocked down by local
activists…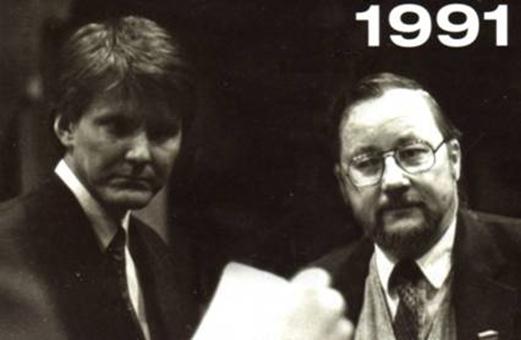 19 January 1991: Aage with President Vytautas Landsbergis in
the
Lithuanian Parliament (Seimas), while the Soviet troops
and tanks continued to surround the building.
During
this stay I, being relatively newly divorced, met Egle, my future Lithuanian wife.
That was not all – I also fell in love with Vilnius' Old Town. As an architect,
I saw the beauty of the place where others saw buildings falling apart, and
decided that that was my chance to help bring the best out of it.
I
got into renovation projects right away, and some of the earliest Old Town
building renovation projects are mine. There were no good-quality building
materials at that time in Lithuania, so I had to import windows, doors, paints
etc, and for a couple of years I think I was a leading importer of Norwegian
products to Lithuania.
New
projects followed and eventually I had too much interesting work on my hands to
return home, so I started my architect's business in Vilnius with my new
father-in-law.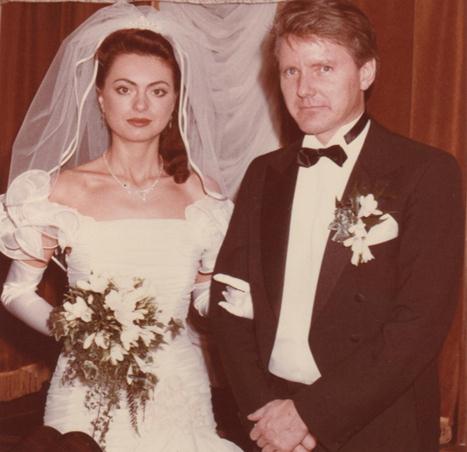 Aage
met his coming wife Eglė already during his first visit to
Lithuania,
in 1990.
In 1992 they married in the St. Peter & Paul Cathedral in Vilnius. 
Why
have you decided to leave?
There
are a number of reasons. I've been investing in Lithuanian real estate, with
own money too. The crisis of 2008-2010 hit me really hard, while today there is
so little happening in the local property development market – it's not
interesting enough for me anymore.
Another
reason is family. I have three grown-up children in Norway and two daughters here.
I would like to unite them and have my big family around me as much as I can.
The
third reason is my Lithuanian children. As children, they have dual Lithuanian
and Norwegian citizenship now but Norway only allows one for adults; to qualify
for that you need to have spent certain time in Norway. The social safety
system in Norway is probably the best in the world, and I want my kids to enjoy
it. Then there's education – Lithuanian high schools are good, but university
education is generally not up to standard yet.
What
is your take on modern Lithuanian architecture?
I'm
a classic style architect, and few of modern buildings in Lithuania have
impressed me. Local architects or property owners seem to be more interested in
building monuments to themselves, to the point of looking funny.
For
instance, Vilnius' biggest new commercial development around the Europa office
tower and shopping centre looks so messy to me. One particular area looks like
a stone desert, there's nothing there that makes you want be there. The
neighbouring Konstitucijos Avenue is one big transport artery that completely
blocks the Old Town on the other side of the Neris River from the new central
business district. I think placing it underground and creating a green oasis wouldn't
have cost much more while creating a much friendlier place.
I
believe in holistic architecture – how buildings, the surrounding area and
people interact with each other is as important as designing an interesting
building. I like to compare modern Lithuanian architecture to a casino – you
throw the dice and get an assortment of numbers-buildings, you have no control
over them and therefore urban planning suffers from that. The more classic
style architecture I compare to chess – every move has intelligent consequences
to the game.
How
has it been for you, a foreigner, to run a small business here?
It's
been different from Norway, yes, and there have been many challenges. Many
foreigners who come here start complaining, especially about corruption. Of
course, corruption exists here but personally I have never paid a single Litas
in bribes to any local politician or bureaucrat during my projects. If you
behave like a normal person with a certain degree of politeness, you don't have
to go into these traps. But if you come with your nose poked in the air, you
will quickly face problems.
If
you have a positive attitude, Lithuania is a fantastic place to be and do
business, especially now with the country's low taxes – you don't even have to
do business here, only have your base and do business wherever you like.
The
Vilnius International Club that you are the founder of, the VilNews
English-language online magazine about Lithuania – they seem to be more about
history and for older Lithuanians living abroad rather than about current
affairs and for young people.
It's
just like human being – they have various interests, and so we at VIC and VilNews
try to offer a mix of everything – history, politics, culture, business. I
admit, VIC was not as active when I was deeply involved in launching VilNews as
a newsletter for VIC but now it's again a vibrant community. As the basis for
VIC activity, I've been using borrowed slogans from two well-known brands,
Nokia's Connecting People and Nike's Just Do It.
VIC
members break down 50/50 between Lithuanians interested in foreign affairs and
the local expat community. I believe VIC today is the best forum for any kind
of local-foreign discussion – it's not just a chamber of commerce, it's not
only a culture institute.
And
we are certainly going to have more young faces at VIC and VilNews, it
just takes time for me to walk them through.
In
Norway, Lithuanians last year became the second biggest immigrant community.
How do you feel about it?
What I don't like about Norwegian authorities is that
they are discussing only what advantages (low-cost skilled labour) or
disadvantages (crime) the Lithuanian immigrants create for Norway. I never
heard somebody say, 'This is so bad for Lithuania that we take their best brains'.
If this issue was discussed from both sides early on, the authorities could
have become more focused on it and could probably come up with some solutions.
Obviously,
many Lithuanians wouldn't have left their country if it wasn't for the Andrius
Kubilius' Conservative government's austerity policy that started in 2008. It
was like putting brakes on in a car that was already standing still. I
personally urged Kubilius to write to Scandinavian prime ministers to seek some
kind of assistance. For instance, to a country like Norway to support Lithuania
would have cost very little. Later I met Norway's Conservative Party leader
Erna Solberg and asked if Kubilius ever asked for help and support to deal with
the crisis or the energy prices pushed up by Russia. She said, no, never.
In
general, I believe Lithuania and the Baltics should seek closer cooperation
with Norway and Scandinavia. The EU is fine but it is such big and unwieldy
machinery. Scandinavia owes you so much because it pretended not to notice that
Lithuania's anti-Soviet resistance, the bloodiest post-war conflict in Europe,
was taking place 60 years ago at their very doorsteps.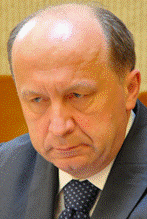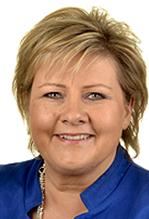 ANDRIUS
KUBILIUS ERNA SOLBERG
Aage
personally urged Prime Minister Kubilius to write to Scandinavian prime ministers
to seek some kind of assistance when the crisis hit in 2008. Later Aage met
Norway's Conservative Party leader Erna Solberg
and
asked if Kubilius ever asked for help and support to deal with the crisis
or
the energy prices pushed up by Russia. She said, no, never.
We have talked to
Aage
Myhre aage.myhre@vilnews.com
Tel
+370 699 33 222 (mobile)