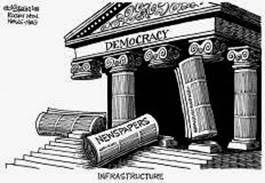 The term Fourth Estate refers to the press,
both in its explicit capacity of advocacy
and in its ability to frame political issues.
VilNews was several years ago established as a newsletter for Vilnius International Club (founded 2001). Over the years, the newsletter got attention and readers from a worldwide audience far beyond the spheres of the club, and grew over the last couple of years from having a few hundred readers to an estimated readership of more than 10 000 at the end of 2010.
Against this background, it was in September 2010 decided that VilNews should be separated from the club and established as a separate corporation and publisher, with the aim to turn the newsletter into an online e-magazine with a broad scope of issues and coverage.
Today's vision for VilNews is to develop and maintain an e-publication that should  be viewed as a good, strong, independent, democratic and outspoken Fourth Estate media in and for Lithuania, founded on professional journalism and reflected comment articles.
VilNews as e-magazine shall continue the line of the newsletter, to be critical of the negative that is still going on in this country, while increasingly trying to find positive stories and interesting angles on events and characteristics from both past and present. Another goal is that VilNews shall builds bridges between Lithuania and its many extraordinary fine diasporas around the world. The global nation called Lithuania represents so much more than the country itself, and VilNews will always do its utmost to connect people with some sort of interest in Lithuanian affairs around the globe.
VilNews has got amazingly great support and response from readers around the world. This fact makes us confident that we will continue to develop VilNews' position as
a leading English-language e-publication from and about Lithuania!