By Anita Šovaitė-Woronycz
Chepstow, Wales
Think of a nation in northern Europe whose population is around the 3 million mark
-       a land of song, of rivers, lakes, forests, rolling green hills, beautiful coastline
-       a land where mushrooms grow ready for the picking,
-       a land with a passion for preserving its ancient language and culture.
Doesn't that sound suspiciously like Lithuania? Ah, but I didn't mention the mountains of Snowdonia, which would give the game away.  
I'm talking about Wales, that part of the UK which Lithuanians used to call "Valija", but later named "Velsas" (why?). Wales, the nation which has welcomed two Lithuanian heads of state to its shores - firstly Professor Vytautas Landsbergis, who has paid several visits and, more recently, President Dalia Grybauskaitė who attended the  2014 NATO summit which was held in Newport, South Wales.
We know very little about Lithuanian inhabitants of Wales prior to World War II. There must have been some, but documentation is difficult to find. Our guess is that a number may have arrived as workers via the DP camps of Germany after the war, and we know that others moved here after spending a period of time elsewhere in the UK. My own parental grandparents left Stoke-on-Trent in the 1950s to run a farm in Carmarthenshire where they also hosted Lithuanian scouting courses in its grounds. Decades later, work opportunities brought other members of the family, myself included, to settle in South East Wales. On the other hand, Rhyl in North Wales, became a popular retirement place for Lithuanians from the Stoke area who had enjoyed holidays at the seaside town.
Time passed. Lithuania declared independence from the USSR. Let's fast forward to the bloody events in Vilnius of January 12th - 13th 1991. In direct response, a meeting was called in Cardiff to discuss how to help raise awareness in both in Wales and throughout the UK. This is how Cardiff Baltic Society (later Wales Baltic Society) was born. It brought together members of the exiled Lithuanian, Latvian and Estonian communities in Wales and a handful of Welsh people (later to include politicians) plus other interested parties.
In July 1991, one of the founder members of Cardiff Baltic Society, the now late Anthony Packer, then lecturer in Education at the University of Wales, Cardiff, led a delegation of educationists to Vilnius to advise on the reconstruction of the Lithuanian school curriculum. During this visit, he went privately to the headquarters of Sajūdis to deliver a message of support from the General Secretary of the Welsh political party, Plaid Cymru (the Party of Wales). This was the first ever such message to come from any British party. A special friendship between Wales and Lithuania was thus forged and continues to this day.
Fast forwarding another few months we find that the Soviet Union has fallen, that Lithuania has been recognised internationally as a country in its own right and Wales-Lithuania links have continued to grow. In no particular order, here are some examples of those links:
●      A rowan tree grows in the Welsh National Garden of Peace in Cardiff. The tree was ceremoniously planted by Lithuanian MP (now MEP) Laima Andrikienė. Members of the Baltic Society were in attendance along with Paul Flynn, MP for Newport West and a representative from Plaid Cymru.
●      An official friendship agreement has been established between the Vale of Glamorgan in South Wales and the city of Jurbarkas in Lithuania.
●      The then Cwmbran-based Eimutis Šova was appointed Ambassador of Goodwill from the City of Kaunas to the City of Cardiff.
●      Professor Vytautas Landsbergis has visited Wales on several occasions and it was put to him that his autobiography, "Lūžis prie Baltijos" could be adapted for an English-speaking audience. Eimutis Šova, by now Chairman of the Baltic Society and the Lithuanian Association in Great Britain, was able to translate the whole script from his Cwmbran home, whilst editor Anthony Packer worked from his place in Penarth. The result was a book entitled "Lithuania Independent Again", published by the University of Wales Press in Cardiff and launched in the year 2000 at the Welsh Assembly Rooms in the city. I know - I was there with my mother and brother. Sadly, my father Eimutis did not live to see this event, a celebration of the completion of a project in which he played a major part.
●      In 1994, The "Versmė" Choir of former deportees and political prisoners from the city of Jurbarkas travelled all the way to Wales by coach. They toured the country, stopping at various towns to give joint concerts alongside their counterpart Welsh choirs. They were hosted by local residents in each town as they went along. Welsh representatives from each leg of the journey would join the tour bus for a while, but Eimutis Šova and his wife Rūta went the whole distance to navigate and act as translators. One of the highlights was a visit to the famous International "Eisteddfod" (festival of music, literature and performance) at Llangollen. The tour also took in the village of Aylesham in Kent, due to its links to Wales through mining, including a Male Voice Choir, and its proximity to Dover. Recently, the Versmė" Choir celebrated its 20th anniversary and a book called "Dainuojanti Versmė" has been published to mark the occasion. The trip to Wales is well documented in the book.
●      In 2002 Anthony Packer became the Honorary Consul of Lithuania in Wales. Just before his death from cancer in January 2014, he was presented with the Order of the Diplomatic Star by the Lithuanian Ambassador to the UK, Asta Skaisgirytė-Laukšienė. This award is the highest for services to diplomacy given by the Lithuanian government. The ceremony took place at the Cardiff and Vale Marie Curie Hospice, where Anthony spent his final days.
●      Many Lithuanians have come to live and work in Wales since Lithuania became a member of the European Union. The 2011 census recorded 1,353 Lithuanian-born residents in Wales, although that number will have changed since then because, as EU citizens, they are entitled to come and go pretty much as they please. These Lithuanians have an agenda separate from that of the Wales Baltic Society and more information can be found on their Facebook page, "Lietuviai Velse".
●      The Wales Baltic Society has seen many of its members pass away over the years, but has also welcomed new members from across the Baltics. The Society continues to hold regular events, both social and informative, including an annual lecture in memory of the late Jill Hutt who was the first to call for a society to be formed in Cardiff, having learned about the horrific events in Vilnius through a Lithuanian friend. Have a look at our Facebook page - you'll be most welcome.
Diolch yn fawr! Thank you very much! Ačiū labai!
Anita Šovaitė-Woronycz
Chepstow, Wales, November 2015
Facebook Links to Groups and Events in the Greetings From Wales article:
https://www.facebook.com/Wales-Baltic-Society-137441349626105/?fref=ts&__mref=message_bubble
https://www.facebook.com/Lietuviai-Velse-159315472134/?pnref=lhc&__mref=message_bubble
http://www.walesonline.co.uk/news/local-news/man-penarth-received-knighthood---6484265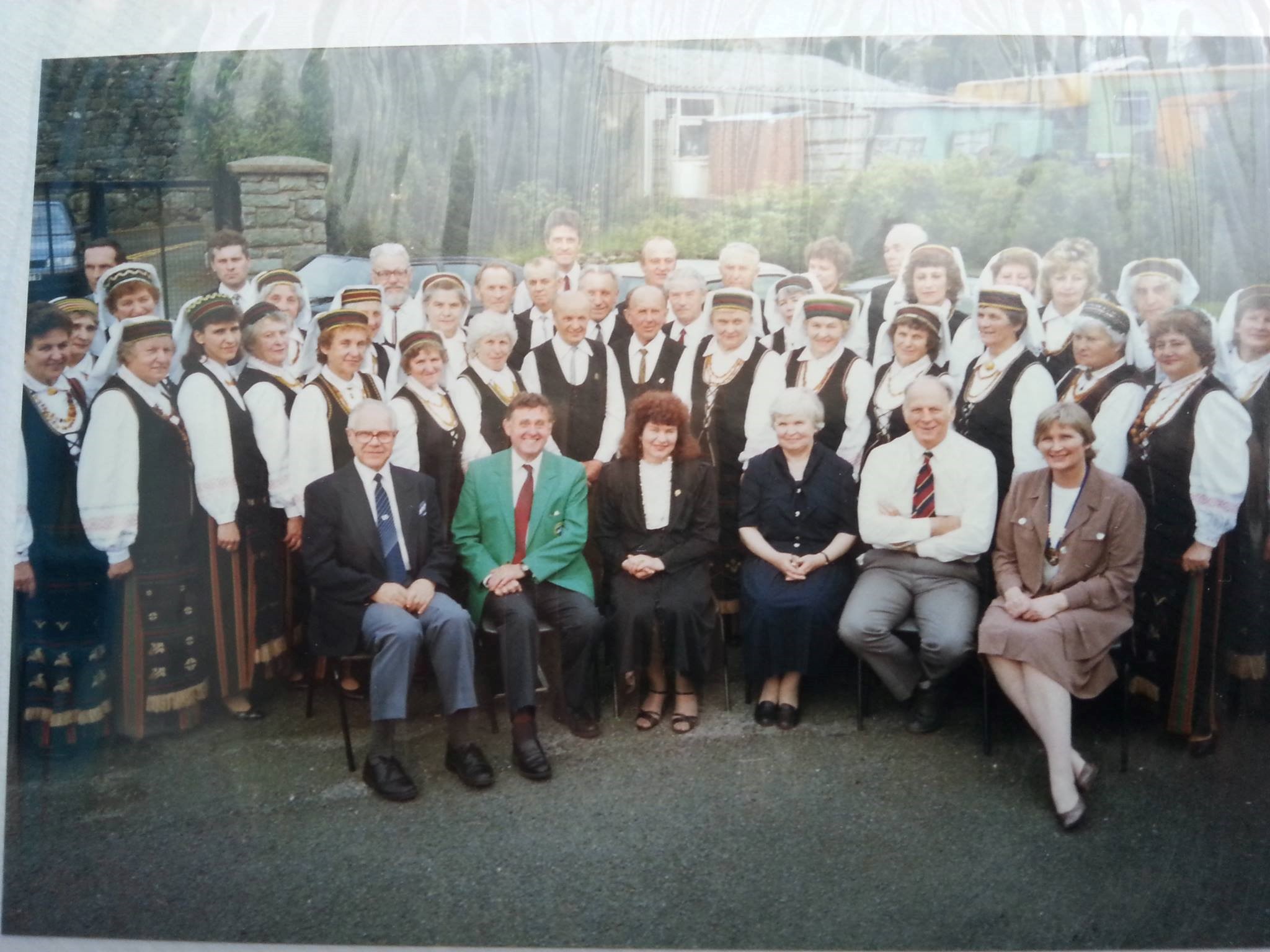 The Versmė Choir of deportees and political prisoners from Jurbarkas.
Seated are some of the tour organisers and choir mistress.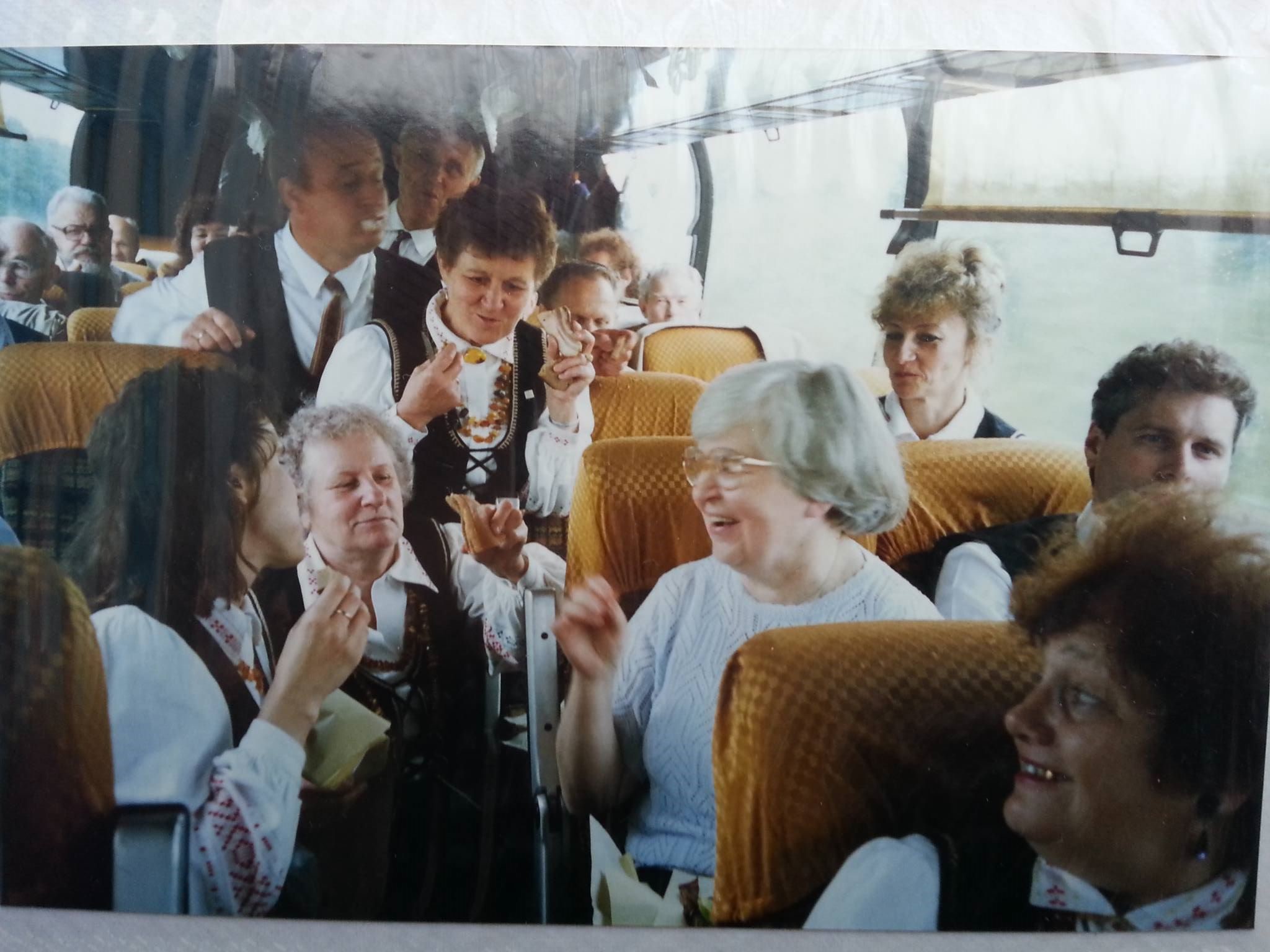 The Versmė Choir on the tour bus with Rūta Šovienė (in blue)