2nd part: VilNews interview with
Professor Landsbergis, Veisaitė

V. LANDSBERGIS
IN STRASBOURG 1990




SMUIKELĖ – V. LANDSBERGIS'
FAVOURITE PORTRAIT.


BY R. PETROŠIŪTE FROM KELMĖ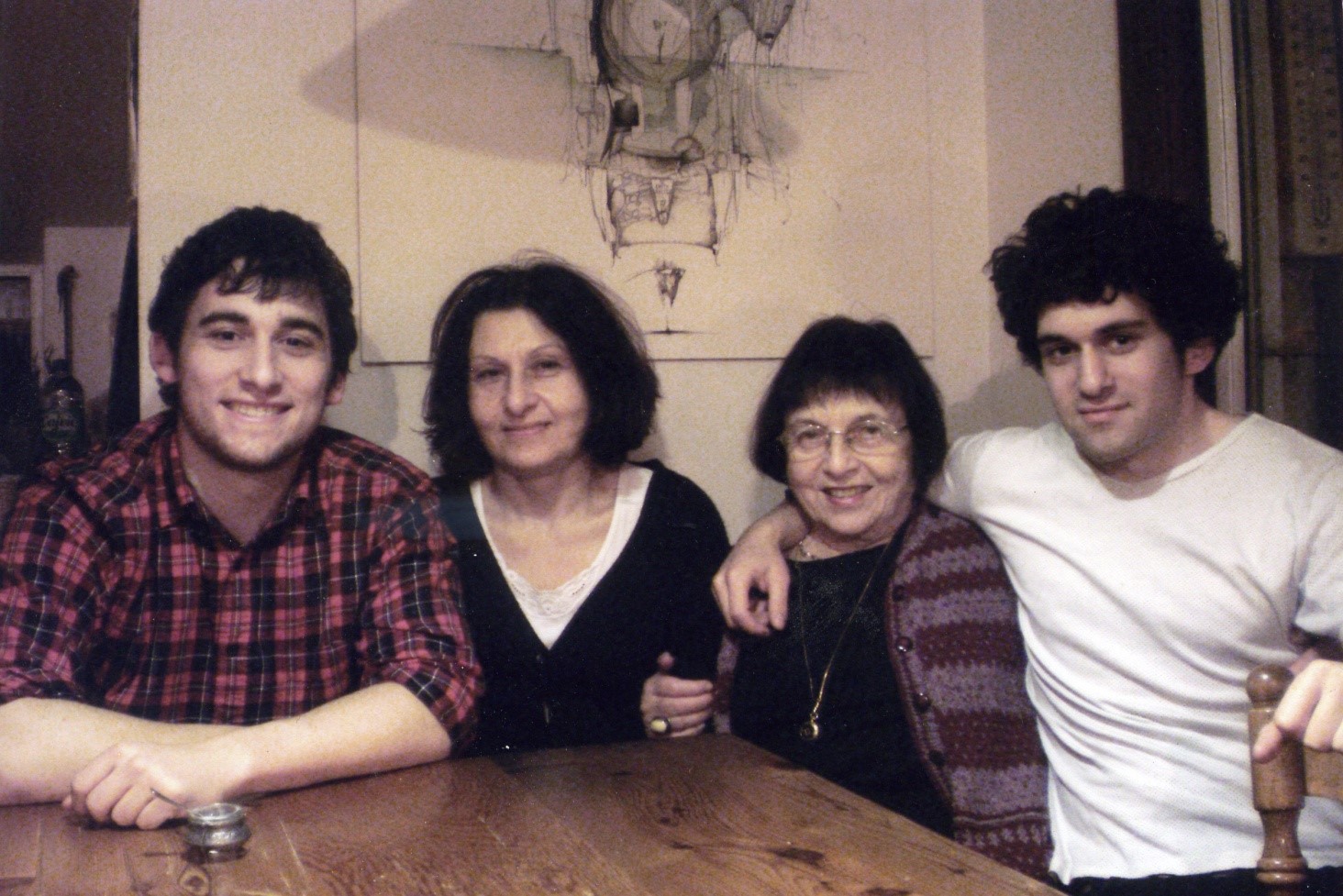 I. VEISAITE WITH HER DAUGHTER AND GRADCHILDREN

L/R: MICHAEL, ALINA AND DANIEL SLAVINSKY, 2011.
Journalist: Dalia Cidzikaitė
Questions prepared by Aage Myhre
Today we have the pleasure of presenting second last) part of a large, exclusive interview with two professors who have meant infinitely much for their homeland Lithuania. In today's interview, we focus on their memories, experiences of and thoughts about the BELOW eras of their lives, over the years 1950-2015:
·       WHY IS STALIN STILL CONSIDERED A HERO BY MANY?
·        THE LITHUANIAN PRESIDENT WHO WAS DEPORTED TO SIBERIA
·        WAS LITHUANIAN PRESIDENT SMETONA
·        MURDERED BY THE KGB?
·        WHY DO LITHUANIANS ABROAD NOT RETURN HOME?
·        DUAL CITIZENSHIP
·        DID YOU KNOW EACH OTHER?
·        LITHUANIA'S UNDERGROUND MOVEMENT DURING SOVIET TIMES
·        HOW COULD THE LITHUANIAN COMMUNISTS
·        GET BACK TO POWER ALREADY IN 1992?
·        GEORGE SOROS AND A HUMANE DEVELOPMENT OF LITHUANIA
·        DID YOU MEET VLADIMIR PUTIN FACE-TO-FACE?
·        THE WORDS OF EINSTEIN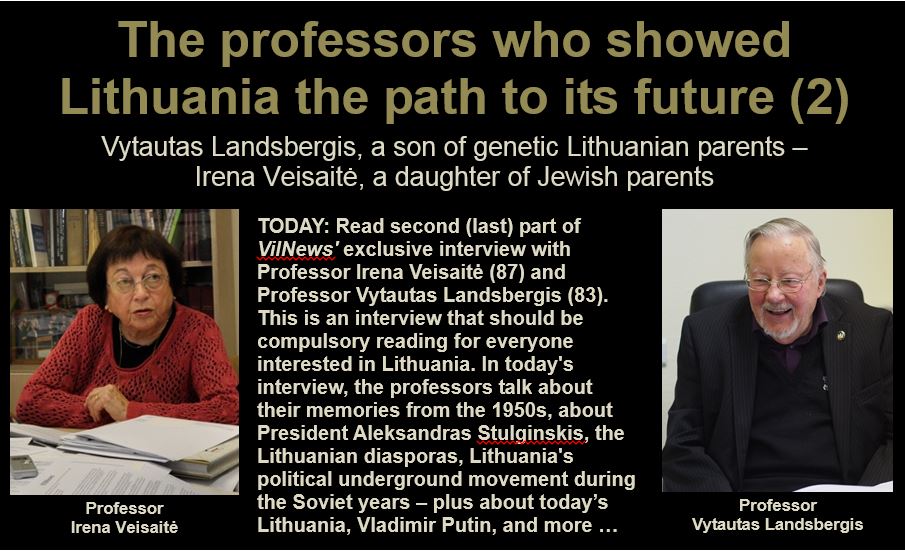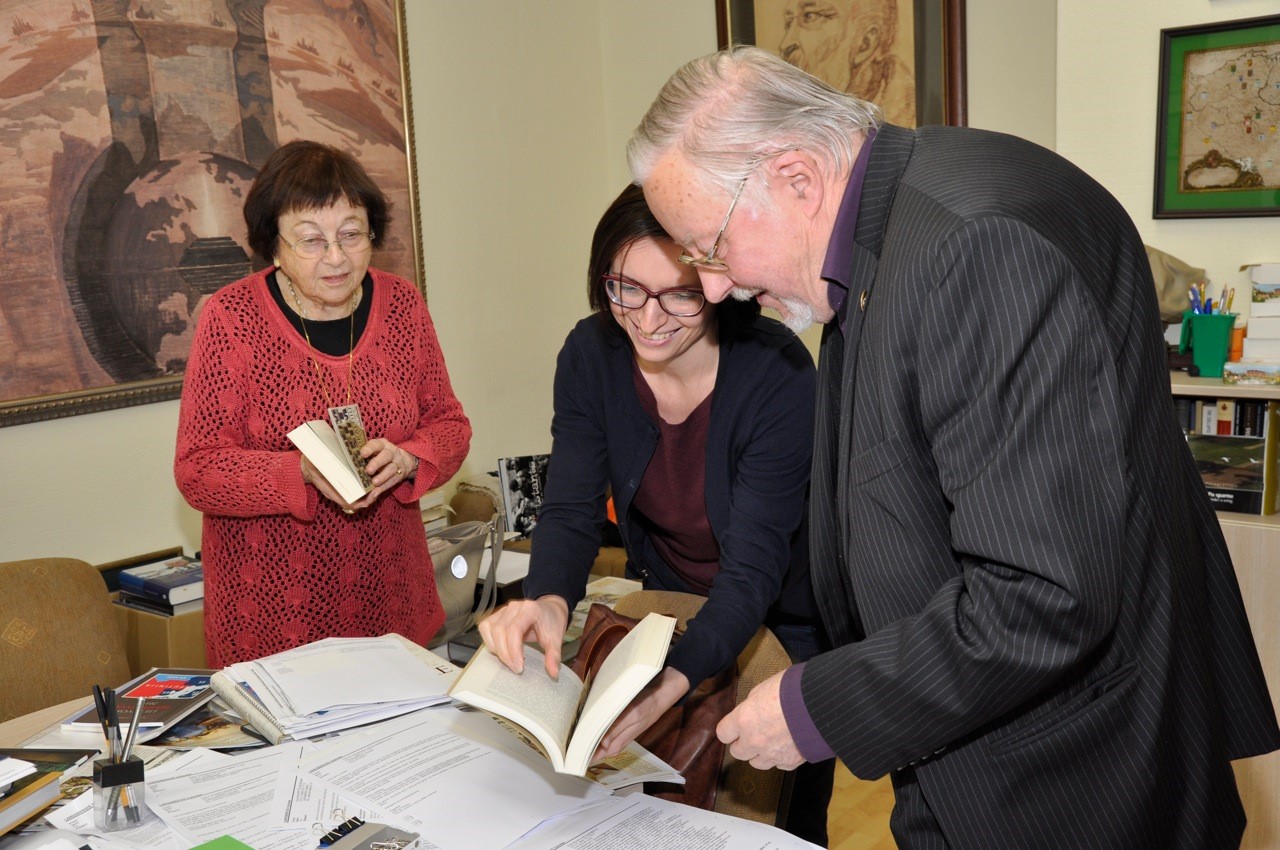 PROFESSOR IRENA VEISAITĖ AND PROFESSOR VYTAUTAS LANDSBERGIS

WITH JOURNALIST
DALIA CIDZIKAITĖ.

Photo: Patrick Murphy
WHY IS STALIN STILL CONSIDERED A HERO BY MANY?

| | |
| --- | --- |
| During and after WWII around 300,000 innocent Lithuanians were captured in their homes and deported to inhuman sufferings on the permafrost of Siberia. Joseph Stalin, who was the Soviet supreme leader until his death in 1953, committed what are probably our world history's worst atrocities and mass murders against millions of people. But while Hitler's legacy has been revealed in all its gruesome details, there are many in Russia and other former Soviet Union countries that still consider Stalin a wise leader and a true hero of his time. What are your comments? | |
VL: It is said that many people consider Stalin a hero. Yes, we have to agree that too many people are still misled, fooled and cheated. And still live believing this stupidity. When the biggest executioner, who murdered tens of millions of innocent people with the hatred and sadistic pleasure, is worshiped... To call such a man, such a manager of genocides (in Ukraine as a man-made famine Holodomor, extermination of Crimean Tatars and Chechens – recognized as genocide by the European Parliament, etc.), a hero is madness. But the world lives in this madness and pays for it today. And now the same people, who worship Stalin, worship Putin, who has introduced internal terror in his country and attacked other countries like Estonia ("experimental" cyber-attack), Georgia (with a non-stop moving occupation until now), Ukraine, and now Syria. Many consider him a hero, too. People, fooled by Russia's monopolized state media, worship him. A very old syndrome is recurring of which Russians say with a self-mocking humor: (says in Russian) "I skučno, i grustno, i mordu nekomu nabit'' ("It's so boring, it's so sad and there's no one's face to smash up"). They want war, that is a true response to an old Soviet pseudo-pacifistic song by Kolmanovsky, forbidden recently, "Do Russians truly want war?" They like to beat the weaker, the smaller and, as Mr. Putin had confessed from his youth, "to hit first."
IV: Don't you think, prof. Landsbergis, that the biggest tragedy is that the Russians did not have their own Nuremberg trials? Communism in Russia has not yet been examined and condemned and therefore, we are witnessing its rebirth today. The NGO Memorial Human Rights Centre, the last institution in Russia regarded as the country's conscience, has been labelled as a 'foreign agent' and is in danger of being banned.
VL: Communism in Russia got its rebirth as a belief in a mission by violence, identical with fascism. And all of this is the fault of democracies. Nuremberg for the totalitarian communism, first of all its Soviet style, has been proposed. It was Lithuania's initiative in 1991, shortly after the failed coup in Moscow. Our Supreme Council appealed to the parliaments of the world, but no one responded.
THE LITHUANIAN PRESIDENT WHO WAS DEPORTED TO SIBERIA

Prof. Landsbergis, your predecessor Aleksandras Stulginskis, the second constitutional president after Lithuania had declared its renewed independence on 16 February 1918, was in June 1941 kidnapped at his home by Stalinist forces and deported to a Siberian Gulag. After he was released from the inhuman captivity, he was still for many years forced to live in Siberia's deep forests, until 1965. There he built a tiny log-cabin with his own hands, which then for many years was home to him and his wife Ona. One can imagine how the world community would have reacted if the president of a more major country had been 


LITHUANIAN PRESIDENT ALEKSANDRAS STULGINSKIS
BUILT THIS SIBERIAN LOG CABIN BY HIS OWN HANDS,


LIVING HERE WITH HIS WIFE ONA UNTIL 1956.

 
treated in such a degrading manner. Do you know if any of Stulginskis' political friends in other countries did something to get him released? Has he later received an honorable burial and the mention he deserves in the Lithuanian history books?
VL: Stulginskis' example is a good example of the double standards applied by Western democracies for many years. No one in the West had felt sorry for the fate of Lithuania, the Lithuanian nation, and its leaders. No one even payed attention to it. Even when Smetona [Antanas Smetona, President of Lithuania from 1919 to1920 and from 1927 to 1944], the Head of State continuously recognized by the US, died in a fire in the US under quite suspicious circumstances, it had not been investigated properly.

Even though after the fire one very famous spy and a KGB officer bragged that he killed Smetona, and a few people even testified to this bragging of the killer. In general, we do not celebrate much the First Republic's period of our history, rather we make jokes about it. We are a strange nation (laughs). Despite the hostile environment, Lithuanians had created a strong state from nothing... A new generation of people was born and raised...
IV: You and I belong to this generation ...
VL: Yes, we do. My brother, who is a bit older than me once said, "If Germans would not had me arrested and took to Germany (where he was to be executed for underground activity), I would had stayed in Lithuania and died in the forest." Thus, his arrest and prisoner's trip to Germany actually saved his life.
WHY DO LITHUANIANS ABROAD NOT RETURN HOME?
The Lithuanian diaspora in the US, Australia and Western Europe are continuously large also today, and have largely retained Lithuanian language and culture, but few have returned to their homeland. Should it not be much easier and prepared for them to create a future here in Lithuania? Has not too little been done to maintain close contact between the homeland and the various diaspora groups around the globe? Hordes of young, smart people have left Lithuania since independence in 1991, especially after Lithuania joined the EU and NATO in 2004. Lithuania is thus one of the world's countries with the largest net emigration. What has gone wrong? Why is it not organized enough for the country's new generation? Is anything to maintain contact with them, potentially inviting them back to their homeland? What is your advice?
VL: This is an unrealistic understanding of the situation. Freedom regained also appeared as freedom of choice of everyone's destiny. An invitation to come back had always been extended to the Lithuanian diaspora. I myself, while traveling in America, was inviting them. I sent out letters to lawyers, inviting them to come for a few years to help us; after all, our law enforcement situation had been tragic. None had arrived. A few financiers and historians came but not lawyers. But can you offer a better standard of living in the post-stricken and morally devastated Lithuania? You cannot. You can offer an idealism and self-sacrifice. And there were young people who came. They were fascinated that they can participate in the creation of the state. But those were few. Thousands had not arrived. Even elders, they settled there; their retirement conditions and health care are different from Lithuania's. We have been maintaining contacts with the diaspora. There is even a special structure, the joint Commission of the Lithuanian Parliament and World Lithuanian Community, though, it works with difficulties. It makes decisions only to the extent permitted by the Lithuanian Parliament.
IV: Lithuania had several waves of emigration. I would like to talk about the current one. It seems to me that the current emigration is due mostly to economic reasons, but not exclusively. Unfortunately, we have not fully freed ourselves from the Soviet mentality. We are still victims of nepotism, bureaucracy, arbitrariness, and lack of respect for an individual. This is particularly felt by young people. Corruption is common place and there is a strong distrust of all authorities. I am not a politician and I do not have a recipe for improvement, but I am convinced that we have not done enough to solve the issue. We have lived in isolation from the world for a long time. And young people want to see, understand and learn new things. They also go abroad out of curiosity. They are looking for a better and richer life.
However, emigration has its merits. Young people learn new languages, learn to work. They get to know the democratic world and other cultures. They send a lot of money home. Billions, actually. How to make them come back? I agree with prof. Landsbergis that it is not easy. During the interwar period many non-Lithuanians, e.g. Karsavin, Romer, Eret, Senn, Seseman, and others taught perfectly at Vytautas Magnus University. Their contribution did not have an adverse influence, just the opposite. Why do we fear people from abroad even now? Why are we afraid to meet and invite them even just for limited periods of time? While working at the Open Society Fund Lithuania, we invited Kavolis [Vytautas Kavolis, a Lithuanian-born American sociologist, literary critic, and culture historian] to come and teach in Lithuania. It was not easy to organize and finance his visit. Kavolis' contribution is very significant today. Why can this type of initiative not be encouraged today? We already have a lot of young Lithuanian scientists educated abroad and very much respected in the scientific world.
DUAL CITIZENSHIP


Another major unresolved issue is that of the dual citizenship. It is a real disaster and not up to date. Lithuania is a small country and cannot afford to lose loyal people by not providing the possibility of the dual citizenship, for example, even with another EU country. I think this is an obstacle preventing many Lithuanians from returning.
VL: In the second part of the question, I also see the situation wrongly understood. You say that a lot of people left Lithuania after it joined the EU and NATO, as if there is some kind of causal connection. It is not. What is wrong, you ask. Open society and open borders are not bad. This is an opportunity of freedom, perhaps an incentive to go to see the world or try to live temporarily outside Lithuania. You cannot say that it is bad. This is a new situation, which is much better than the previous one when people were forced to go east and no one could go west (laughs). All our liberation struggle was for freedom of choice. We declared that if we want, then we will be independent. It was the formula of the Reform Movement of Lithuania – freedom of choice and not the forced presence.
IV: Today I heard the President of the Vilnius Club speaking on the radio and I very much liked how he referred to those leaving the country. He called them mobile Lithuanians, not emigrants.
DID YOU KNOW EACH OTHER?
After the war, you both chose advanced academic educations and careers, IV in pedagogy, history and German literature, VL within music.  You got your distinguished PhDs and became both well-known professors. Did you meet, get to know each other, and how was it to be students and young professionals over the years when the Soviet Union's grip on Lithuania turned increasingly tight?
| | |
| --- | --- |
| | IV: I knew Prof. Landsbergis as a musicologist and the best expert on Čiurlionis in Lithuania. I first met him at the Vildžiūnas family house. I was his supporter during the time of the Reform Movement of Lithuania. We had many mutual friends, for example, Onutė Narbutienė and her family. I have always felt that we spoke a similar language, although our families did not maintain close contact. I have always felt Professor's support and knew that I could turn to him. I always had deep respect for him, even if at times I did not agree with some of his statements. I never understood why his ratings were so low in Lithuania. I feel a close connection with his wife, Gražina. I am also acquainted with his son, Vytautas, who is a writer and is involved in theatre and cinema. |
LITHUANIA'S UNDERGROUND MOVEMENT DURING SOVIET TIMES
Prof. Landsbergis, can you give us details about how Lithuania's political underground movement worked during the Soviet years and how you and the freedom movement Sąjūdis in the 1980s came up with the idea and belief that a revolt against and secession from the Soviet Union could have a chance to succeed?
VL: Soviet times lasted for several decades. And the political underground among the intelligentsia came in many and various forms. Such places as the Vildžiūnas family house, that brought together intellectuals and artists, were already legal places of spiritual resistance in Lithuania. Those were family clusters (laughs), where people were not afraid to openly talk about the situation and problems and, if a possibility arose, do something about it. There was a lot of semi-underground, where people would act within legal framework and not be persecuted for their actions. The system did not like you, it limited you, but it did not put you in jail for what you do, for your independent posture. Such cases were also the manifestation of a certain resistance. The underground press circulated all the time; it also varied and served different underground groups. When the Reform Movement of Lithuania emerged, the free press erupted like a volcano. No one asked for a permission to print it, Glavlit [General Directorate for the Protection of State Secrets in the Press under the Council of Ministers of the USSR] had no more power. It was actually wiped out by the reality, by peoples' yearning to read. Then there was the fight for religious freedom, for justice, and history without lies. Various clubs, movements, artists' organizations had sprung out, not only officially but also like small groups, which encouraged independent thinking and activities. Meetings were held with artists, who talked about their works, which were censored. And then the ecological movements began to emerge. We realized that our nature's poisoning equals our nation's extermination. We also cared about our cultural legacy, heritage, and language.
When due to the total bankruptcy, the Soviet Union got weaker and the Kremlin came to the conclusion that certain things in the economy and elsewhere needed to be reformed, the perestroika came. Out of necessity. This represented a chance for all the discontent and resistance movements to come out on stage and speak out. And to consolidate the various forms of resistance to a single Lithuanian movement, the Reform Movement of Lithuania. We also asked, following Gorbachevist slogans, for changes, for reforms. And changes all the way, till the crash of the communist empire (laughs). Not that we necessarily said it at once, but that was clear to us. Even the Reform Movement of Lithuania's manifesto of 1989 proclaimed Lithuania's right and strive to be independent, and that the reforms should not be limited to partial achievements. We demanded everything, not just some or partial reforms.
HOW COULD THE LITHUANIAN COMMUNISTS
GET BACK TO POWER ALREADY IN 1992?
| | |
| --- | --- |
| Prof. Landsbergis, you and Winston Churchill came somehow to suffer similar fates after you have won the battles you had been heading – as he lost the British election in 1945, you lost the Lithuanian presidential election in 1992. What do you think the winner of the presidential election, Algirdas Brazauskas, former leader of the Communist Party of Lithuania, suddenly again could achieve such renewed confidence and popularity? | |
VL: At the end of 1992, the Reform Movement of Lithuania lost the parliamentary elections and I did not participate in the presidential elections making way for another candidate, Stasys Lozoraitis, whom I supported. Lozoraitis would had been a very good candidate, but everything was done for him not to win. As for Brazauskas, he was well known and already popular. Especially among people who looked at the Soviet period quite positively. By the way, part of our today's population still are homo sovieticus. They wanted Lithuania to be free, but they did not want fundamental changes. Lozoraitis said that we need to create a new human being and that we cannot live with these badly affected people. However, this issue is still unresolved. There was also a frustration about the living conditions, which were brought about by our political freedom from the Soviet Union. And, of course, there was an open revanchism of former communists and nomenclature. They just did not see any other way out only to return to power and turn the events back.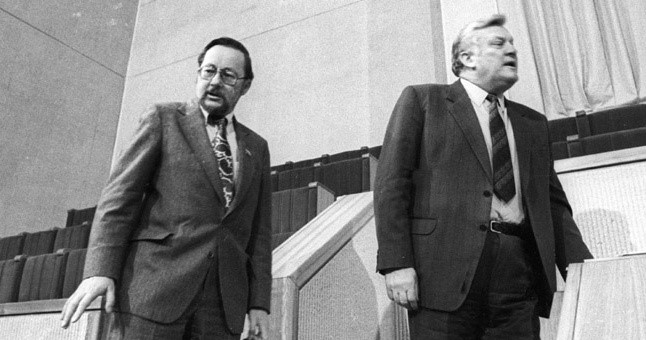 VYTAUTAS LANDSBERGIS AND ALGIRDAS BRAZAUSKAS

IV: It was our biggest mistake.
VL: Perhaps not a mistake, but a misfortune. The communists came to power, only under different names in other countries as well, such as Hungary and Poland. But we were the first in the return of the communist government (laughs). We are always at the forefront; in bad things, too. We are leading in alcoholism, in suicides...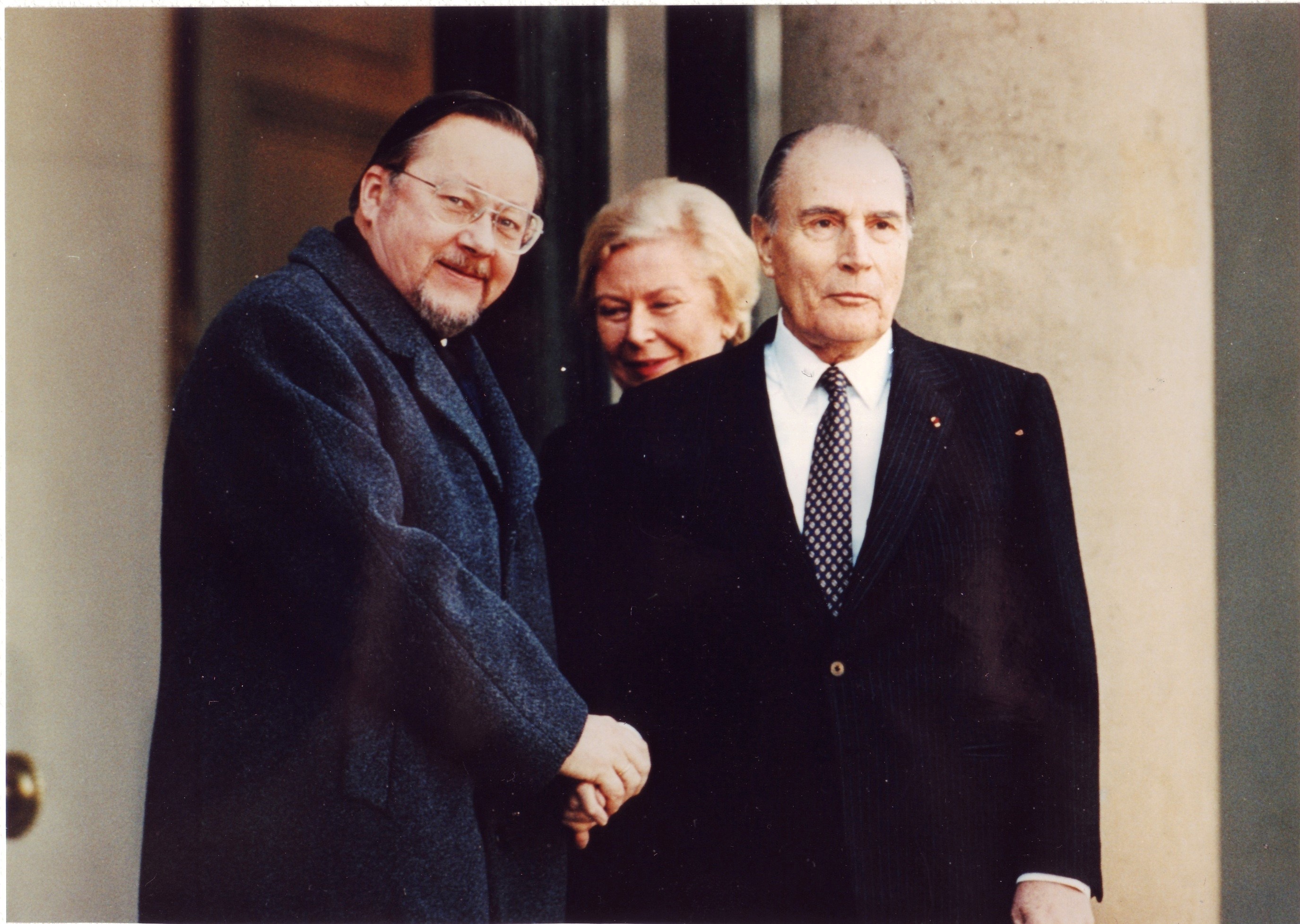 LANDSBERGIS VISITING PRESIDENT F. MITTERRAND IN PARIS, 1990.

IN THE BACKGROUND INTERPRETER, FUTURE UNESCO-AMBASSADOR OF LITHUANIA, UGNE KARVELIS.

GEORGE SOROS AND A HUMANE DEVELOPMENT OF LITHUANIA

| | |
| --- | --- |
| Prof. Veisaitė, soon after Lithuania's new process of liberation, in 1990, you together with prof. Česlovas Kudaba were invited by the philanthropist and billionaire George Soros to create the Open Society Fund in Lithuania. You chose, in other words, no political career, but kept fighting for this to democratize and contribute to the human development of the newly free, independent Lithuania. What can you tell us about your many years as a champion of humanism in Lithuania? | |
IV: The Open Society Fund Lithuania was basically the continuation of my pedagogical work, only on a much larger scale. While working with students, I always tried to show the limitations of the Soviet ideology, its harmfulness and lies that it spread about the world and about human beings. The communists had answers to all questions, while the world and the human beings are much more complex. I never joined any party and I am not going to in the future. I understand the importance of a party system, but after all what happened and what I experienced I want to be free and independent.  I chose cultural, non-political activities. The Open Society Fund Lithuania had given me an opportunity to contribute to a democratic, free, and humane development of Lithuania; it helped to overcome and heal the wounds of the past and pave the way for the future. In 1984, my husband died and I really did not want to live anymore, but the restoration of independence and the Open Society Fund Lithuania had encouraged me to continue with meaningful work. One reporter once asked me what the Open Society Fund Lithuania had meant to me. I replied that that was my last love. Others will have to evaluate our work.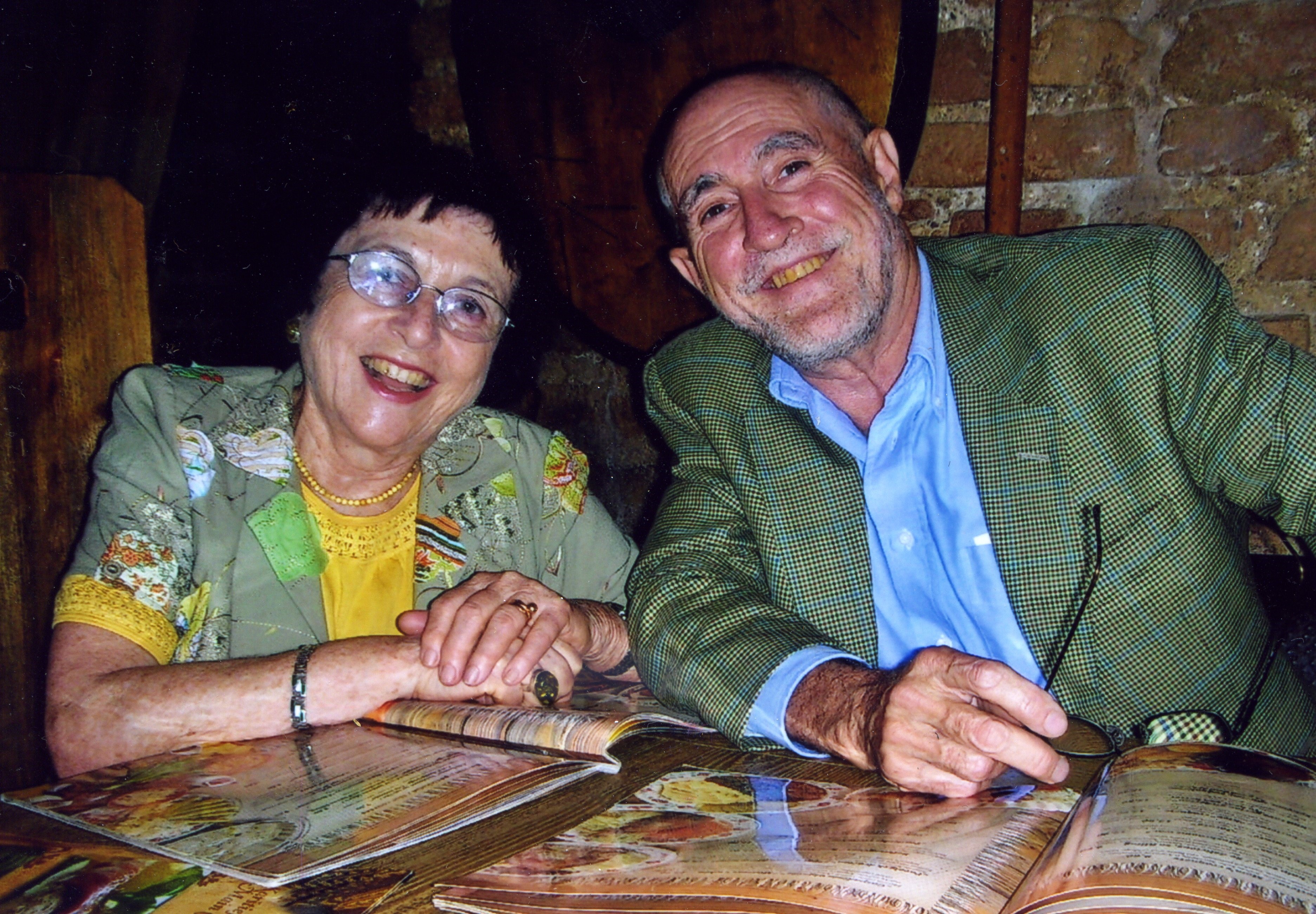 A NEW BOOK ABOUT PROFESSOR IRENA VEISAITE HAS RECENTLY

BEEN PUBLISHED, WRITTEN BY FRENCH WRITER YVES PLASSERAUD


DID YOU MEET VLADIMIR PUTIN FACE-TO-FACE?
| | |
| --- | --- |
| Prof. Landsbergis, "He's not well informed. It's like arguing with an eighth grader with his facts wrong." The US President George W. Bush said this about Vladimir Putin in 2006. Have you yourself met Putin face to face? How would you describe him? And define his 'great plan' for our world of today? Do you see him and his generals as a real threat for Lithuania and the other Baltic countries? | |
VL: I have never met Putin. At the time when I interacted with Gorbachev or other world leaders, he was an insignificant spy in Germany. Then he appeared in St. Petersburg, where Sobchak [Anatoly Sobchak, a mayor of St. Petersburg, 1991-96] was already quite a figure. Putin became his assistant and turned himself into gross financial frauds. But even in the Yeltsin era, the prosecutor's office could not get hold of the group, which soon resurfaced in Moscow and took control of the FSB. And after that any actions against Putin and his pals were out of question.
IV: I think you have not lost much, Professor, for not having met Putin. It was his loss more than yours...
VL: Perhaps it would be interesting and useful to talk with Putin. At least, it would be interesting to try. If someone would have offered it to me, I would certainly have not turned it down. How does Putin look today? Mrs. Merkel herself said that he is not an adequate man. (A propos, there are not a few around her inadequate as well). He sees reality inadequately. And now he wants to remake the reality according to this vision of his. And that becomes a real threat to the world. He is ambitious, a megalomaniac who thinks that he can deal with this bad world using his own tools. Those tools include terrorism, dividing, using other terrorist states not only organizations and arming and repurchasing them, participating in global corruption, buying up and influencing media in Great Britain, US, and Germany. Putin had been using big money, up until he had the petrodollars. Now he has the problem with money, so he organizes military actions and goes to wars, which will help him to replenish his coffins with dollars. The West does present its weakness. A very dangerous weakness. And Putin, not having real power, uses psychological pressure, in fact, a terror force. As if saying, "I can do very bad things, so do not make me angry and do not act the way I do not like."
IV: The situation is very complicated. There is huge corruption in Ukraine…
VL: But I think that Putin is very pleased with this corruption. The largest corruption was during Yanukovych [Viktor Fedorovych Yanukovych, President of Ukraine from February 2010 until his removal from power in February 2014] rein. In order to clean it, it is necessary to get rid of the people of the same as Yanukovych culture. But they are not going anywhere. They are influential and somehow they give away everything to Putin. They handed Crimea to him without any resistance; they did not even put up a political struggle. As if there had been some sort of agreement, a suggestion from the West – you better do not fight back and Putin will suffer for it. This led to further expansion of Putin's aggression. Now it has moved over the Mediterranean Sea. This is a dangerous case. And it is caused not solely by Putin's personality but also by Russian intellectual and moral weakness. They worship terror, they like it. Putin's attitude to the West is Kremlin's Boko Haram, which states that the West is a creature of the devil and they must be destroyed. And everyone who is inclined to the West is a creature of the devil and must be destroyed. The West is afraid to look truth in the eye, afraid to say that there is a fascist regime in Moscow, i.e. new National Socialism, which declares the Russian supremacy over all, the uniqueness of the Russian nation, and the global messianism. The book proclaiming all that, The Third Empire of 2007, Kremlin's bestseller and policy provider, is like Putin's desk Mein Kampf.  And quite many in Russia, even intellectuals, are intoxicated with such talks.
IV: Not really, Professor. No one of my friends or acquaintances has been intoxicated. No one...
VL: But there were those who signed ... Perhaps for fear?
IV: Oh, I am sure of that! What I am really afraid of in this situation that we should not be infected with hatred towards Russians. Khodorkovsky [Mikhail Borisovich Khodorkovsky, a Switzerland-based Russian exile, former Russian businessman and oligarch], when he visited Lithuania on the last occasion, said: "You should talk about the danger of Putin's regime, not about Russia or Russian people. Because when you do so, you give Putin the possibility to play the role of a patriot, who defends his people from its enemies." When Goethe was blamed for meeting with Napoleon, he said: "How can I hate the French, if they enriched my worldview with Diderot, Rousseau, Voltaire, Montaigne ..." I feel the same way. Unfortunately, intellectuals and people with independent thinking have always been in the minority. They are in the minority in Russia today and here, in Lithuania, as well...
THE WORDS OF EINSTEIN
This interview will probably be read by hundreds of thousands of people 'with Lithuania in their hearts,' worldwide. Do you have a message for them?
IV: I would like to end with Einstein's words: "Anyone who has never made a mistake has never tried anything new..."
Let us learn from the past, live in the present, and believe in the future.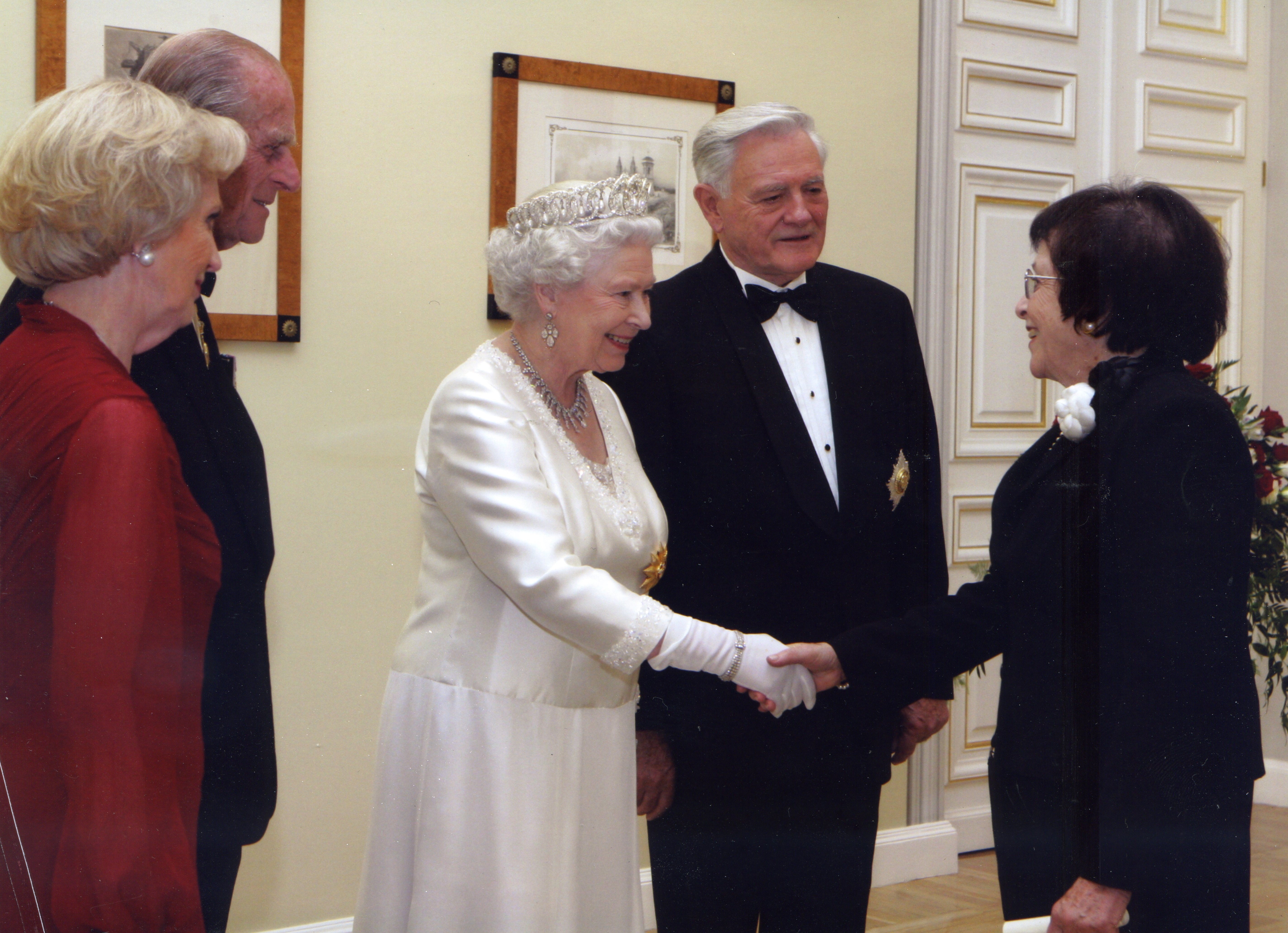 IRENA VEISAITE MEETING QUEEN ELIZABETH II DURING HER VISIT TO VILNIUS IN 2004.
WITH PRINCE PHILIP, DUKE OF EDINBURGH, AND LITHUANIAN PRESIDENT VALDAS ADAMKUS.
PHOTO BY DŽOJA BARYSAITĖ.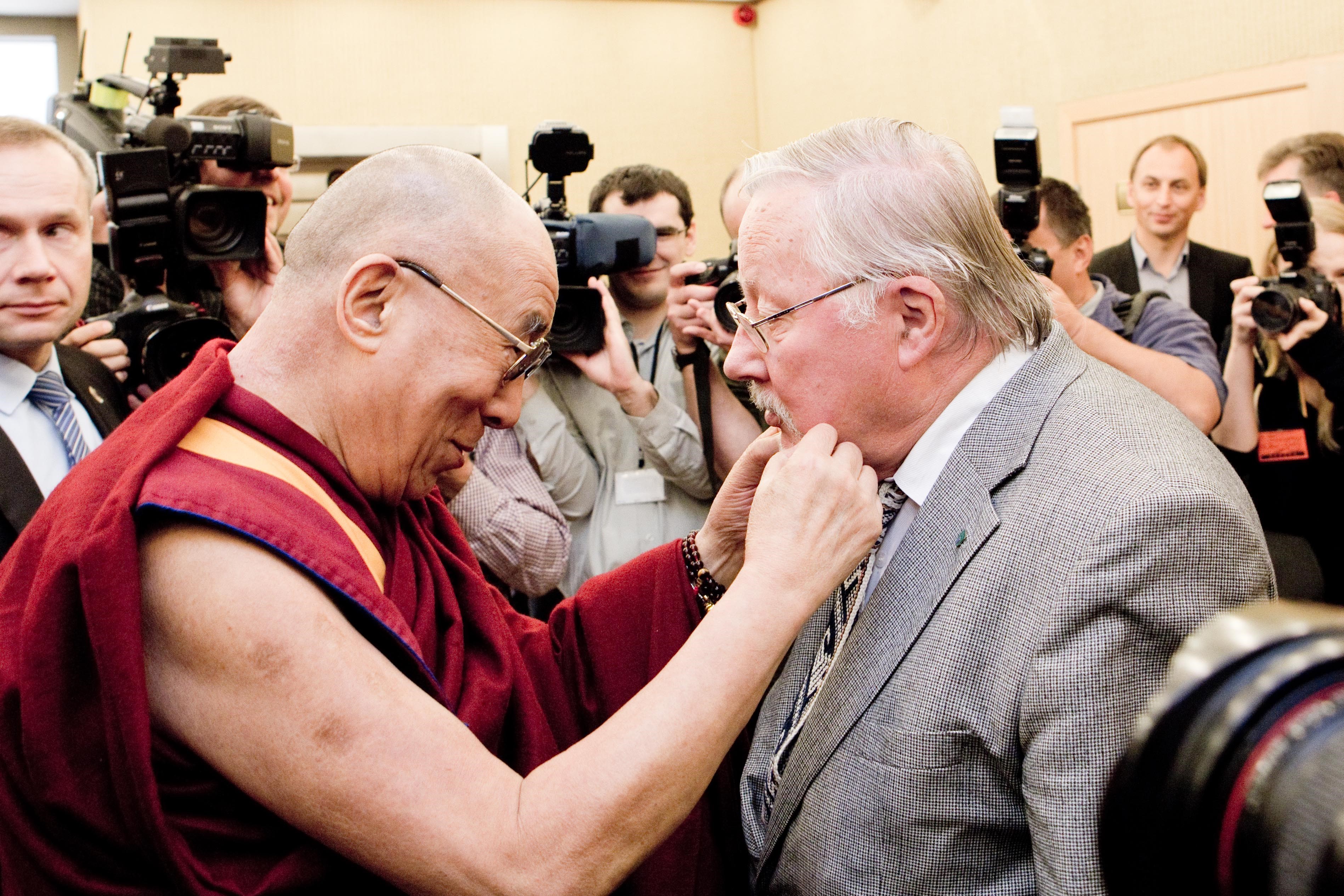 DALAI LAMA WITH PROFESSOR LANDSBERGIS IN VILNIUS SEPTEMBER 2013.