Tue, 14th June, 2011 - Posted by admin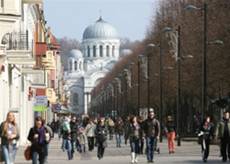 Kaunas, the second largest city in Lithuania, has brushed aside its reputation as a European backwater in recent months, with tourism in the city literally booming since the introduction of low-cost flights to the city last year.
With the boom in tourism, other areas of Kaunas' economy have started to pick up too, including retail, construction and more, revitalizing this charming city and spurring renewed vigour into its development.
The growth in these sectors is attributed directly to the increasing number of foreign visitors, says the city's mayor Rimantas Mikaitis. Since Irish-based low-cost carrier Ryanair started operating flights to Kaunas in 2010, the city has been resurrected from the point of collapse, he explains.
Read more:
http://www.argophilia.com/news/kaunas-booming-tourism/22847/