Yes, this is Lithuania's national dish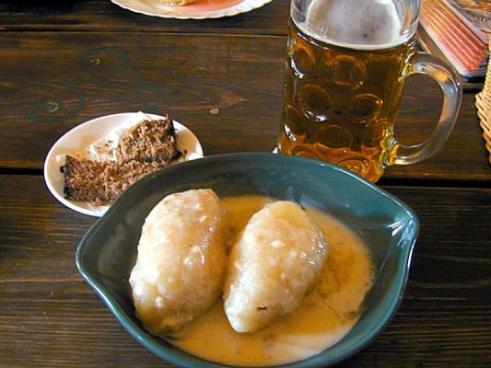 What could be better. A couple of hot 'cepelinai' made of fresh potatoes, stuffed by
minced meat or cottage cheese. Plus a refreshing beer...
As soon as I came here I was told to try the Lithuanian national dish, cepelinai, which are stuffed potato dumplings, and I soon found a restaurant to give it a try. It was a quality recommendation (!) as I found the cepelinai to be a quality taste sensation. Hmmm….cepelinai. When I asked for the bill at the end, the waiter brought me another pint of beer……ah, no more questions, we must be in Lithuania.
Well, when visiting any country, it's always an interesting treat to sample their traditional dishes and Lithuania is no exception. For some, you may have this opportunity while visiting family and friends. I'm always excited when I get an invite from my cousin Vytautas in Vilnius to come over for dinner. His wife Rūta never ceases to amaze and delight with the wonderful meals she prepares – You would not believe the Cepelinai that comes from her kitchen. It must run in the family because her sister Marytė in Kaišiadorys also has that magic touch so I'm also always in good appetite when we visit her – Some of the roast meat this lady prepares is fit for royalty.
Now if these invitations for a traditional home cooked meal are not available don't despair or if you just want to go out and do some gastronomical exploring on your own there are many places to find traditional Lithuanian food. As you drive around the country you continually are passing through villages and small towns. In most of these villages you will find at least one kavinė (café). These kavinės almost always offer a number of Lithuanian favorites on their menu. I can tell you that it is not uncommon to see a large hand made sign on a tree that says "CEPOLINAI". This sign may be in front of a road side kavinė or if your lucky, the sign is in front of some one's house. In this case you're eating cepelinai on their patio – Talk about wonderful atmosphere! Let's face it, for the most part their clientele are the people in the village and Lithuanians like to eat these traditional meals on a daily basis. In a small town you will find quite a few of these local kavinės.
Now some may be concerned that they don't speak the language very well or even not at all. No Worries! All you need to know are a few words like cepelinai, kugelis and bulvinių blynai (potato pancakes) and you'll do just fine. In fact for those of you that don't speak Lithuanian very well, or not at all, you may enjoy not only your meal but your visit even more. In these village and small town kavinės they don't really get a lot of foreign visitors so when guests from another country come into their cozy little café they are delighted. As long as everything you say is with a smile you will have probably the most friendly service you ever experienced in your life. Now ordering your meal may involve a lot of pointing and gesturing but in the end all will be understood and you will be in for a delicious treat. Oh by the way, one more thing you should remember, kopūstų sriuba (cabbage soup). Some of the finest cabbage soup I've ever had in my life has been in some of these country side kavinės.
Now for those of you that will be spending time in some of the larger cities in Lithuania, you will also find quite a few local kavinės that offer a variety of traditional Lithuanian dishes. Also in the larger cities you can easily find any number of restauaunts that specialise in traditional lithuanian food. There are three restaurant chains in Lithuania that offer very good and very high quality traditional meals. Now the word "chain" may sound a little detracting but don't let it. I've eaten in various restaurants of all three of these "chains" and I can tell you that you will be treated to not only authentic but very tasty food. In fact two of these "chains' have restaurants here in Vilnius and I go to these places quite often.
To go in alphabetical order let's start with BERNELIŲ UŽEIGA.
Bernelių Užeiga prides itself on recreating the food from an authentic Lithuanian kitchen. It was the first Lithuanian restaurant chain that was certified with Lithuanian Culinary Foundation Certificate which guarantees that dishes are prepared according to original recipes. Their menu is vast and the atmosphere of their eateries is very warm and welcoming. They have four restaurants in Kaunas and one in Šiauliai.
Next on the list is ČILI KAIMAS.
The Čili chain is the largest restaurant chain in Lithuania and a few years ago they opened up their specialty Čili Kaimas restaurants. Their menu also is based on traditional dishes. Depending on which location you are in the atmosphere can range from eating in the dining room of a wealthy land owner to sitting at wooden tables at a big festival. There are five Čili Kaimas restaurants in Vilnius, two in Kaunas and two in Klaipėda.
Last on our list but by no means least is FORTO DVARAS.
Forto Dvaras was the first restaurant in Lithuania to offer certified meals from the Gastronomic Heritage Foundation. These are meals made in the traditional way, using products of local origin.
I would say they this restaurant has the widest variety on their menu. They have one entire page devoted to just potato pancakes. About any variety of grated potato, filling and sauce you could think of and when you look at their list of cepelinai varieties you will be equally amazed and delighted. All of this with Lithuanian music playing in a cozy atmosphere of an old estate, decorated with elements of the old graphics and pictures from authentic books. For you lovers of cabbage soup, I highly recommend you try their cabbage soup with smoked sausage – Labai skani!!!
Now some one may ask which one would I recommend???
Good question. I wish I had a good answer???
I have eaten in the restaurants of many of these chains and I would have to say that it would be difficult and maybe impossible for me to say which is the best. They are all very popular so I would say that it's a good bet that you will enjoy any and all that you eat in.
Vin Karnila