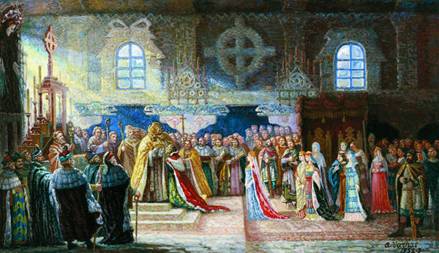 Coronation of King Mindaugas (Adomas Varnas, 1952 m.)
6 July is Lithuania's State Day and a national holiday. On this day, Lithuanians honour the coronation of Mindaugas, who became the first and only king of a unified Lithuania in 1253.
By Tomas Venclova, historian
The first Lithuanian ruler, Mindaugas (ca. 1200 – fall 1263), is wreathed in mystery and ambiguity―almost as much as St. Christopher on Vilnius' coat of arms. His rise occurred at a time when Lithuania first confronted the German knights, the so-called Knights of the Teutonic Order. Like most founders and unifiers of nations, Mindaugas probably was not a very attractive character. He did away with the majority of his opponents (among them, quite a few of his relatives), adopted Christianity, was crowned King by the Pope, but then broke with Christianity after his wife's death―in any case, that is what the Teutonic Knights claimed. His wife's sister, who was married to Grand Duke Daumantas, came to the funeral. According to the story, "The king shamelessly violated the law, robbing the woman of her honor by force and keeping her as his wedded wife." Daumantas killed Mindaugas and fled to the Russian city of Pskov, where he adopted the Orthodox Christian faith. He became a famous ruler and was later canonized. Meanwhile, for a good half-century the Lithuanian state disappeared from history: what happened during this time is beyond reliable historical knowledge.
What is clear is that there were no longer any kings, only grand dukes. (After the First World War an attempt was made to restore the old monarchy. When the German Prince von Urach was called to the throne, he intended to call himself Mindaugas II. But the idea never went beyond this operetta-like plan.) Historians, relying less on documents than on patriotism, have been trying to prove that the story of Mindaugas is connected with Vilnius: he was said to have been crowned and murdered in this settlement. In any case, he is credited with having built the first cathedral, whose Romanesque ruins can be found in the vaulted cellars of the present-day Cathedral. When Daumantas took revenge against Mindaugas, they say, the cathedral again became a pagan place of worship. Ardent supporters of this tale have even found twelve stone steps and the sacrificial altar of the cult site.
Admittedly, like most stories from that period, this one has a touch of the absurd. Still, Mindaugas became the symbol of the threatened state. Not long ago, a memorial to him was erected at the mouth of the Vilnia. A somewhat naïve play* portrays him as the first Lithuanian patriot. It influenced the generation that subsequently took to the barricades for the liberation of the country from Communism. Nevertheless, the true founder of the city was not Mindaugas, but Gediminas, a ruler who came to power after this "blank" period in the history of Vilnius.