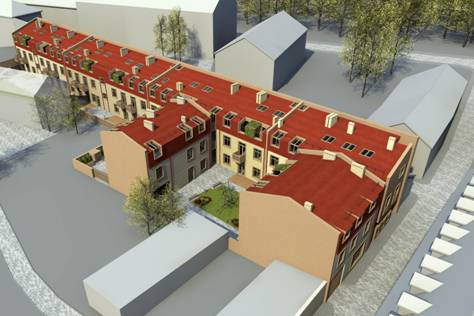 Kotrynos vartai is being built at Klaipedos Street in the very centre of Vilnius Old Town, close to the St. Catherine Church and the Teachers' House.
Illustration: Resolution/NEWSEC.
It is not often build new homes here in Vilnius Old Town. There are simply very few vacant spaces. The financial crisis has also contributed to 'freeze' the majority of new developments in Lithuania's real estate sector.
But now it's finally something happening. A brand new apartment complex under construction in the heart of the Old Town, on a site that until recently was reserved for old garages from the Soviet era.
Kotrynos Vartai is the name, a complex of apartments and two commercial premises being built at Klaipedos street next to St. Catherine's Church and the Teachers' House.
The development includes:
33 apartments from 28 to 138 sq.m;
The smallest units are 1-room studios, the largest spacey 5-rooms apartments (4 bedrooms);
Two commercial premises facing Klaipedos street;
Underground parking;
Most of the apartments are equipped with terraces, balconies, high ceilings and fireplaces;
Two closed green inner yards, with playgrounds.
The construction works started spring 2011, Completion in autumn of 2012.
The apartments are sold at prices varying from 6.700 LTL/sq.m to 8.900 LTL/sq.m. Till now eight apartments are sold.
More information at  www.kotrynosvartai.lt.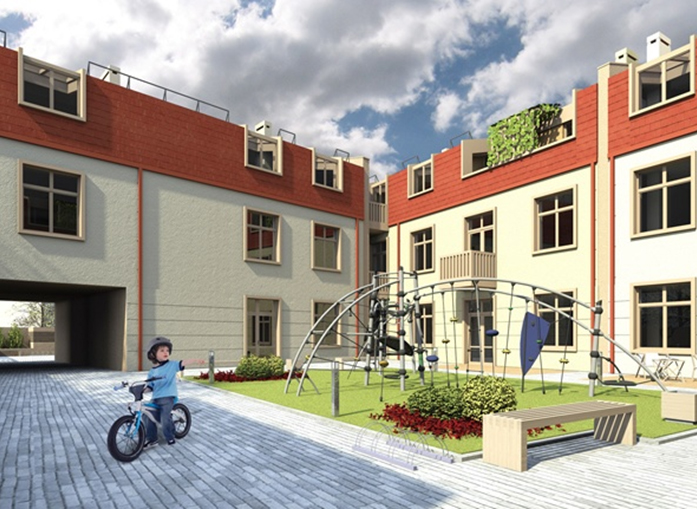 Kotrynos vartai will be a truly green and attractive oasis in the very centre of the city.
Illustration: Resolution/NEWSEC.