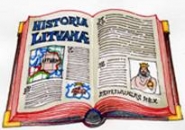 I try to follow all the English "press" from the Baltic Times to  alfa.lt "English". 
FINALLY I discover you! AND..... you place an article on Feb 16th Lithuanian Independence on the FRONT PAGE and feature an absolutely marvellous "historical" section.
BRAVO! It's about time! All too often "historical" news and commemorations in Lithuania seem to be taken for granted - as if everyone there wasn't interested or already knew about it.
The fact is most of us are STARVED for this kind of information and even regular English speaking tourists need historical perspective to truly appreciate Lithuanian culture - if only to help understand a tragic and fragmented history. I will read you much and often.

Edward Kestas Reivydas,
M&R Americana Insurance Service Inc Santa Monica, California, USA