A poem about the witches among us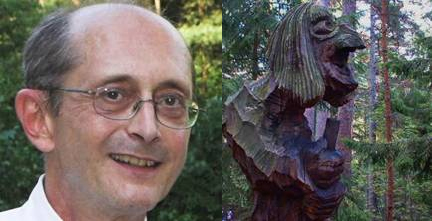 Lent is imminent, and writer KR Slade wants to remind us of what it
represented in pagan Lithuania. In his poem "My Dream of When the
Witch is Found ..." he deals with today's witches and devils in Lithuania,
the many who are still engaging in anti-Semitism and racism.
By KR Slade
This year, Lent begins on 13 February (i.e., Ash Wednesday). Therefore, 12 February is 'Shrove Tuesday':which in Lithuania is called 'Užgavėnės' (i.e., "time before lent") … that is an ancient pagan-festival -- "to chase away winter" -- and: celebrated by fire, and the wearing of masks -- notably representing witches and devils.
Such ancient witches/devils mask-representations, and their symbolism: are more-recently found in the first-half of the 20th century (i.e., in anti-Semitic Nazi, fascist, Soviet, et als. propaganda). Indeed, some people consider such past and current representation(s) to be anti-Semitic.
Moreover, I have found in Lithuania a degree of anti-Semitism that I did not find in the USA LT community; indeed, I find such anti-Semitism here in LT in my own family (here), and with my LT friends, colleagues and associates . . .  I find the devil/witch concept still with us, in LT . . .
That is why I wrote this poem; "My dream of when the witch is found."