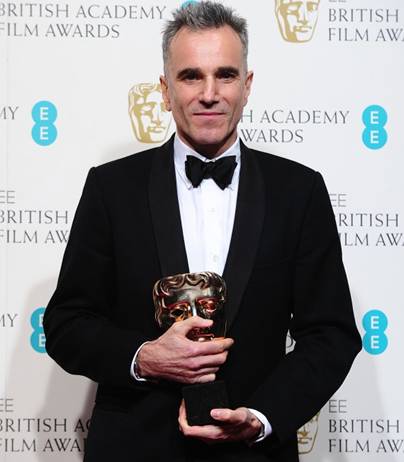 Daniel Day-Lewis has received widespread critical acclaim for his
performance in the movie Lincoln.
VilNews has previously written that Hollywood largely was created by Litvaks, the Lithuanian Jews who have had so endlessly huge influence on world culture, science, business and politics.
Go to our VilNews Section 12 for case examples.
Now it turns out that the star of this year's major film, Lincoln, also has Lithuanian ancestry. And not only that; his Lithuanian grandfather, Michael Balcon, had enormous influence on the British film industry in its startup phase in the early 20th century.
His mother, Jill Balcon, was a leading English film and radio actress.

Sir Michael Balcon
(1896 – 1977)
grandfather.

Jill Balcon
(1925 – 2009)
mother.
About Sir Michael Balcon
Michael Balcon is considered one of the most important figures in British Cinema. It was his vision that brought international prestige to Gainsborough in the 20s and 30s. and he was a vigorous spokesman for the industry for most of his career.
Michael Balcon's career began in Birmingham in 1920, where, with Victor Saville he was a film distributor. Within two years they had begun producing feature films in London - Woman to Woman 1923 was the first. He formed Gainsborough Studios the following year. He visited the Ufa studios in Berlin in 1924 and began a co-production association with The Blackguard that was to last 10 years. German technical staff populated Gainsborough films through the 20s and early 30s giving them a slick, sophisticated veneer to match any film produced in Hollywood, Balcon was aiming for a product of international interest unlike many other British studios in the silent and early talkie era.
Read more: http://en.wikipedia.org/wiki/Michael_Balcon
About the movie "Lincoln"
Lincoln is a 2012 American historical drama film directed and produced by Steven Spielberg, starring Daniel Day-Lewis as United States President Abraham Lincoln and Sally Field as Mary Todd Lincoln. The film is based in part on Doris Kearns Goodwin's biography of Lincoln, Team of Rivals: The Political Genius of Abraham Lincoln, and covers the final four months of Lincoln's life, focusing on the President's efforts in January 1865 to have the Thirteenth Amendment to the United States Constitution passed by the United States House of Representatives. Lincoln premiered on October 8, 2012, at the New York Film Festival, and has since received widespread critical acclaim, with major praise directed to Day-Lewis' performance. In December 2012, the film was nominated for seven Golden Globe Awards including Best Picture (Drama), Best Director for Spielberg and winning Best Actor (Drama) for Day-Lewis. The film has been nominated for twelve Academy Awards, including Best Picture, Best Director for Spielberg and Best Actor for Day-Lewis.
Read more: http://en.wikipedia.org/wiki/Lincoln_(2012_film)